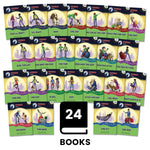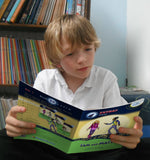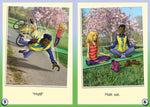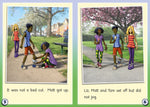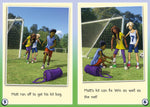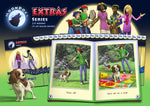 Moon Dogs Extras
Regular Price

$99.90
Sale Price

$99.90

Regular Price

$114.90
Unit Price

per
Moon Dogs Extras is a set of 24 decodable books for older beginner readers.  This unique resource is designed for children who are learning the sounds of the alphabet and how to blend sounds into CVC (consonant/vowel/consonant) words. The illustrations are age-appropriate and will appeal to older readers too.
Following the same stair-step progression, each stage (unit) introduces a few sounds at a time allowing the beginner reader to consolidate learning in a scaffolded way.  Previous sounds/letters are included as the reader progresses through the series so that no learning is lost along the way.
24 books with the same gentle, cumulative progression as our Moon Dogs Series, Set 1.
Age-appropriate stories provide crucial further practice for the sounds of the alphabet at CVC level text.
Book 1a, 1b and 1c: s a t i m
Book 2a, 2b and 2c: n o p
Book 3a, 3b and 3c: b c g h
Book 4a, 4b and 4c: d e f v
Book 5a, 5b and 5c: k l r u
Book 6a, 6b and 6c: j w z
Book 7a, 7b and 7c : x y ff ll ss zz
Book 8a, 8b and 8c: All initial sounds, CVC 
 Decodable Book Progression: